The Firehouse & Distillery
A Brief History of the Norristown Fire Company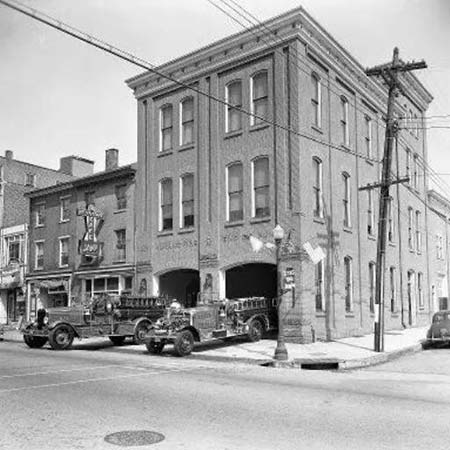 Humane Fire Engine Co. #1
161 Years of serving the community
The Humane Fire Company was Chartered in 1852 and chose the name Humane because the first hand pumper they purchased was from the Humane Fire Company of Philadelphia. The apparatus was housed at the old Norris Hose Station on Dekalb St. just below Airy St. in September of 1852.
The Humane moved to it's first Fire Station in 1854 on the south side of Airy St. near the Court House and in 1887 commissioned the present Building to be built at Main and Green Street's. On May 12, 1888 The Humane Fire Engine Co. #1 Dedication Ceremony was held and the new station was open to serve the community.
November 12th, 1902 Humane's 50th Anniversary Celebration. The American flag was flown from the building. There were only 45 stars on it at that time.
Thanksgiving 1925 – The Rainbow Fire Company of Reading presented the firehouse with a Grandfather Clock as a token of their friendship. This clock still stands today in our firehouse.
June 21st 1973, the community and firehouse fought off the attempt to turn the firehouse property into a parking garage.
Learn the full history in the 1977 book,
125 Years: The Humane Fire Engine Company No. 1
.
Take A Tour
Our brief history doesn't tell the full story of the Humane Fire Engine Company #1 or the journey our spirits go through before they are bottled and packaged. Find out more about the firehouse past and present during one of our tours. Do you have a story about this historic firehouse? We'd LOVE to hear it! Contact us today and share the spirits!
All in a Couple of Weeks Work
We are a grain to glass distillery which means we start with locally grown ingredients (corn, rye) from Bill Beam Farms in Elverson, PA. We travel with our beloved Bella (our 2004 Chevy 2500 Van) and trailer and pick up roughy 2800 lbs of corn packed in our black "corn tins". Once safely back at the distillery our intent as a grain to glass distillery is to maximize the production of alcohol for every pound of starch that we use. Therefore we conduct three essential steps.
First we use of our hammer mill (The Tasmanian Devil) to mill our starches to a fine powder which we then auger up in to our mash tun (our cooking pot). We add hot water, mix and then heat up the mash to almost 90 Degrees Celsius. We then cool it down to room temp. Along the way we add enzymes which break the larger molecules down to the most edible form possible for our invited guests (our yeast). Once the cooked mash has cooled sufficiently we reconstitute and then add the yeast (sorry we can't disclose the exact type - it's a distillers secret), and pump the mash/yeast mixture to our fermentation tanks. We call these our dining halls and during the next few days the yeast process the starch into alcohol and other less desirable elements called congeners. Once the yeast's activity has ended we pump the fermented mash to our pot still for batch distillation.
Our first distilling is called a "stripping run" as we are essentially stripping pff the yeast byproducts into what are collectively called "low wines". These are collected and then redistilled one to two more times into our Whiskey and Vodka. Following proofing in our mixing tank with reverse osmosis purified water we bottle, label, pack and ship. Its a lot of work and takes weeks from batch to batch, but our customers smiles and satisfaction are worth the effort.
So the next time you're looking for premium small batch hand crafted spirits why not pick up some Five Saints Spirits at the distillery, your local state liquor store or enjoy them at your favorite restaurant (if they don't yet carry our spirits let them know you'd like to enjoy Five Saints Spirits at their establishment.
Go ahead and enjoy quality time with Five Saints and Friends - we'll make more!